Thank you Philippe Boutry for creating the riddles for this treasure hunt. The riddles from France were first published in July. Then the remaining riddles were published in August. Many tried to solve those riddles and were stumped. Personally, I found them a bit puzzling myself. But then there are those who excel at puzzle solving. Just like there are others who excel at art or writing.... When we all use our talents, the world is a better place.
The treasure chest has been found by Jason and Sarah Winder. Congratulations! The prize is an original oil painting, 12 x 12 inches, titled, 'Ysengrin, the Wolf and Butterflies'. They had a partner in France named Eric. Eric will receive a print of the painting.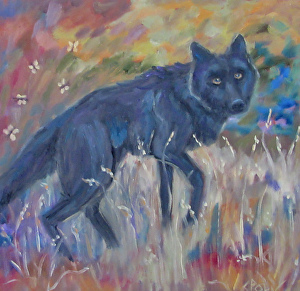 You should click
HERE
to view the actual digging of the treasure when they found the treasure chest! It is a great little video. Jason reports that he is a
Geocacher,
so finding hidden things was one of his specialties. He said, "scavenger hunts and puzzles are things I love! I usually do all my hunting with GPS coords but really enjoy the hunts with less accuracy for more of a challenge". He reports that once he got to the area he found the treasure within 20 minutes. Several other treasure hunters were looking for the buried treasure chest before Jason but were unable to locate the exact position of the treasure chest.
Congratulations Jason and Sarah!